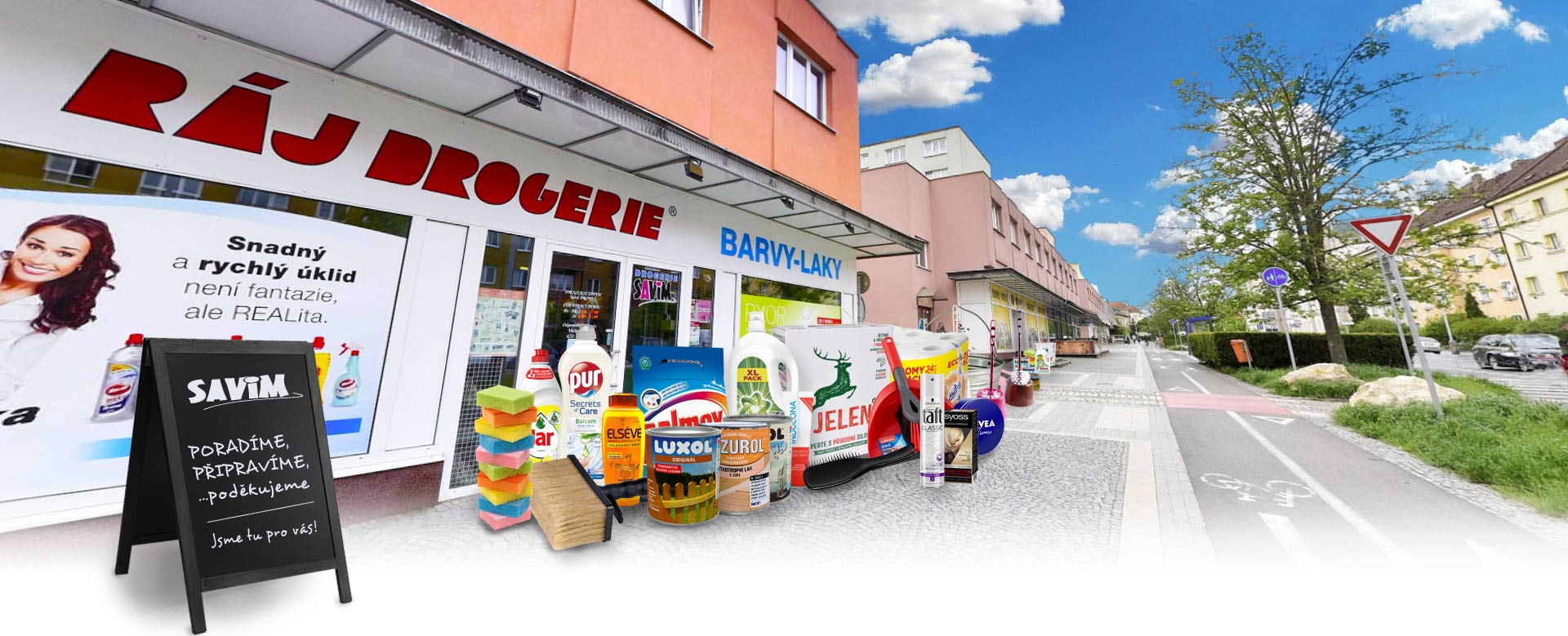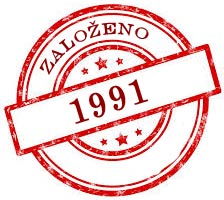 Od roku 1991 nabízíme zákazníkům klasickou drogerii s velmi širokým sortimentem na ploše 150m²
Sortiment čítá na 20000 aktivních položek!
Aktuality
9.7.2021  Ke třicátým narozeninám firmy jsme si nadělili nové webové stránky. Za jejich tvorbu patří velký dík Tomáši Sedlákovi.
9.7.2021  Kalendáře na rok 2022 již v prodeji (pokud jste ztratili letošní diář, ten máme taky)
9.7.2021  Přidali jsme další stojan barev ve spreji Motip NEXT – univerzální spreje na jakýkoli podklad.
O nás
Nejprve trocha historie – prodejna drogerie je zde co tento dům stojí, tedy od roku 1961. Vedoucí Vašek to tu vede od roku 1988. A Drogerií SAVIM se prodejna stala v roce 1991.
Takže je zřejmé, že to hlavní, co rádi svým zákazníkům nabízíme, jsou zkušenosti a znalosti, ruku v ruce s osobním přístupem, ochotou a snahou poradit.
Co nejčastěji od zákazníků slýcháme?
"Vy tady máte všechno!" … "Nikde to nemůžu sehnat a vy to máte!" …
Ano, snažíme se. Úplně všechno nemáme, to by se sem opravdu nevešlo, ale co nemáme, seženeme. A jak rád říkává vedoucí Vašek – "Od toho jsme tady… stále, furt a pořád!"
Náš sortiment zahrnuje především klasickou drogerii, chemii, úklidové, čisticí, desinfekční a prací prostředky a pomůcky, nátěrové hmoty včetně nástrojů, tělovou i vlasovou kosmetiku, parfumerii, dětskou kosmetiku a potřeby, galanterii, hygienické potřeby, papírnictví, bazénovou chemii, pet food a spoustu dalšího. Zboží odebíráme od cca 50ti stálých dodavatelů. Od roku 2021 nabízíme akční nabídky řetězce Ráj drogerie.

Nevíte kde zaparkovat?
Nedávná výstavba cyklostezky s přechodem před naší prodejnou trochu zkomplikovala parkování našim zákazníkům, proto pokud byste měli potíže v blízkosti prodejny zaparkovat, neváhejte využít náš manipulační prostor za prodejnou. Příjezd je z levé strany prodejny (kolem kadeřnictví), prostor pro dvě až tři vozidla s možností otočení. Objemnější nákupy Vám zde můžeme naložit přes rampu.